It's that time of the year….yup…the dreaded holiday party time!  Do most people like corporate or other mandatory-fun parties?  I've never been a huge fan, but I can imagine that these gatherings may appeal to some social butterfly types (ahem, I think my husband falls in that category).  Whether or not you enjoy these holiday get-togethers you can't go naked (whoa, awkward) so I've compiled a few ensembles fitting for those dressier holiday shindigs.   Each outfit below has a different feel and the main component is available for rent at Rent The Runway so you don't have to spend a fortune to look super chic!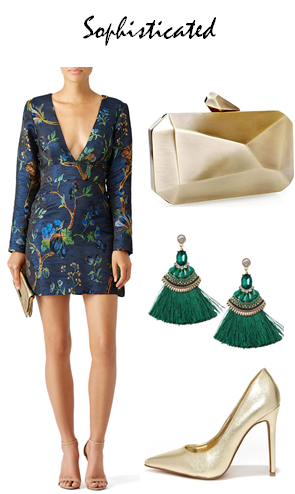 Nicole Miller Blue Branches Jacquard Sheath  Rent $75, Retail $485
BMC Womens Alloy Metal Abstract Stone Cut Hardcase Fashion Clutch Chain Handbag  $27
T&J Emerald Greed Tassle Earrings $22
Click Your Heels Gold Pointed Pumps  $34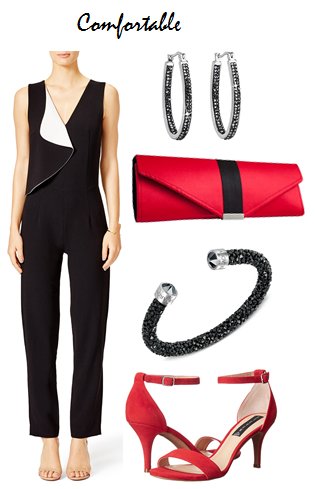 Sachin and Babi Rue Jumpsuit    $70 rental, $595 retail
Hoop Sterling Silver Earrings Made with Swarovski Elements $63
Swarovski Black Crystal and Crystaldust Open Cuff Bracelet  $69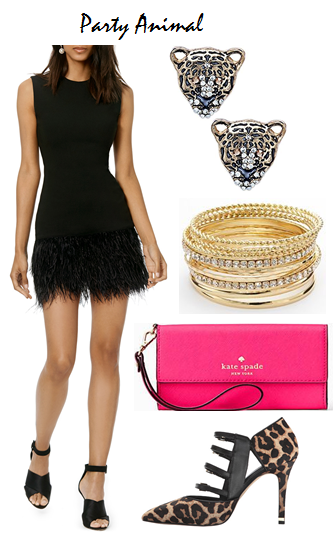 Elizabeth and James  Freedom Sheath  $40 Rental, $495 Retail
Gold-Tone Pave Leopard Stud Earrings  $14
Kate Spade Cedar Street iphone Wristlet   $118
Lux Accessories Aztec Pave Textured Mesh Glitter Multi Bangle Glam Set   $10

And not to alienate any generation from looking fabulous here's a great getup for the …ahem … more mature ladies.  Think you can't do a leather skirt if you're over 50?  Oh you SO can, especially one in a knee-length, A-line with perforated cut-outs.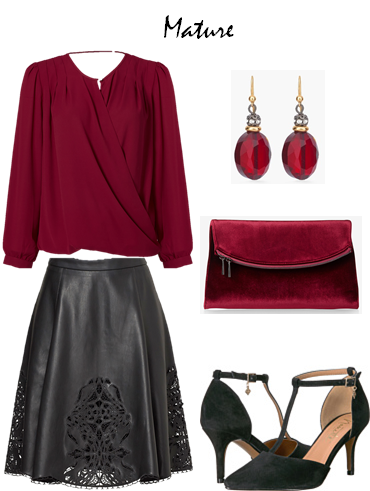 Paper Crown Burgundy Venice Top $30 Rental, $170 Retail
TART Collections Black Faux Leather Skirt  $30 Rental, $148 Retail
Save
Save